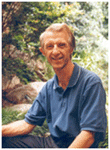 Peter Taylor is passionate about all aspects of books and their creation, and loves giving talks and workshops to children of all ages and to adults - parents, teachers, writers and book lovers. He will be delighted to tailor sessions to cover whatever organizers wish.
His book, 'The Australian Manual of Calligraphy', was published in 1987 by Allen & Unwin. 'Kangaroo's Visitor gets a Surprise' is Peter's latest picture book for children aged 3-7 and a co-written book for children and adults, '101 Things To Do Before You Grow Up' is due to be published worldwide by Hinkler in 2009.
He is a respected contributor to international forums and conferences on writing, book-arts and publishing, and is the Coordinator of the Queensland Chapter of SCBWI - the Society of Children's Book Writers and Illustrators.
A handmade book designed and written by Peter was part of World Expo88's gift to The Queen. His calligraphy, paper creations and bookbinding have been exhibited in the Queensland State Library, Museum and galleries in several countries.
"Peter's talk was totally different from those of other authors...
... attendees could handle original documents from 2000BC, a Roman stylus, 13th century illuminated manuscripts, scrolls, 18th century children's books and more to excite the senses. Wow!"
Possible topics:
Writing and books through the ages - A 'hands on' excursion through the centuries.
Enjoying words - Word pictures and the visual interpretation of poems and texts.
Encouraging reading, writing and creativity - Similar to the 'Videos-Creativity' on the website - for children or adults.
Getting a book published - Traditional books or self publishing - either the process explained (for children and adults), or helpful tips and techniques for writers.
Create your own artist's books - Creating small books is not only fun, it can also stimulate ideas and writing pleasure ... and help win competitions for holidays and products.
Book cover design
Illustration skills
Celtic style drawing Using gold-leaf
Medieval illumination
Embossing
Traditional calligraphy
Lettering fun
Writing picture books
All about writing - Inspiration, characters, editing and more.
Download Peter's special speaker's workshop flyer here!
Testimonials
Peter's workshop was, without a doubt, the highlight of our library year! We already have plans to invite Peter back for a follow-up workshop in the near future.
I also wanted to thank you for making Peter available to schools through Speakers Ink.

Peter Taylor - Ormiston College, August, 2012.