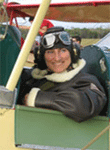 After growing up in Australia Prue Mason travelled Australia and the world as a flight attendant on a private aeroplane with her husband, who is a professional pilot. They lived in Canada for three years then the Gulf region of the Middle East for 12 years. While there she worked as a writer - editing the memoirs of an Iranian lady who grew up in a wealthy but conservative family and who became a diplomat in the Shah of Iran's government before escaping to Dubai after the revolution. This book, Zelzelah, A Woman before her Time was published by Motivate Publishing in London and Dubai. Prue also worked for a children's newspaper that was distributed throughout the region and wrote numerous articles, stories and had a counselling column where she answered problems from the mainly Indian, Pakistani, and Arab teenagers that ranged from how to prevent pimples to how to get out of an arranged marriage. As a CELTA trained teacher Prue also taught English as a foreign language to Arabic speakers.
Her first book for children, Camel Rider, is a best selling, award winning novel, based on her experience of life in the multicultural city of Dubai in the 1990's. "Camel Rider" won the Queensland Premier's Literary Award for Best Children's Book in 2005."
Prue conducts sessions about life in the Middle East which includes a slide presentation, artifacts for children to look at and clothes for them to dress up in.
She also conducts an exciting, interactive workshop on how to write scary stories for 10-13 year olds. For older groups she has a workshop called Making Up Stories that shows how to create a believable character and then making up a story about that imaginary person. This can also be extended to a full day workshop which covers sections called Character Building; Filling in the Plotholes; Sizzling Synopsis; Fabulous First Sentences; Write On and Polishing Off.
Prue's next book (May, 2009) is "Destination Abudai", a fascinating and balanced look in to the Middle East as well as a fast paced adventure with wide appeal.
Check out this interesting article in the Melbourne Age about Zafir and the whole series here -- http://www.theage.com.au/national/education/through-my-eyes-novels-introduce-students-to-childrens-experience-of-war-20150322-1m21bn.html
Testimonials
Prue is an exceptional speaker who connects with students and seeks to ensure that their questions are answered. She admirably prepares herself for her presentations. Prue's wisdom, care and compassion make her an excellent writer, and presenter.

Sheldon College - August 2018

We have now booked Prue Mason for the past 4 years and she always meets our expectations. When students have read and analysed one or two of her novels and can then ask questions of the author face to face, it is very special. Her workshop makes the reading relevant but also stimulates in the children an interest to write for fun.
We shall book Prue for next year and would encourage other schools to do so as well.

Prue Mason - Sheldon College, August, 2014.

Prue Mason did a great writing workshop with the 4-7s using hats. The kids were busy the whole time and she left the worksheets for the teachers to continue using in the class.

Prue Mason - St. Andrews Catholic School. 2013

Thrilled with the preparation Prue put in to making her workshops very engaging and interesting for our students. For the senior students Prue wrote a first chapter to a novel from which they had to develop a back story on a character of their choice. With the junior students she was equally engaging and they all ended up creating their own story with her guidance. The commentary afterwards from students was that they all learnt a great deal about story writing techniques.
I found Prue very accommodating and easy to get along with. I would definitely recommend her to anyone wishing to have a writing workshop, she is a very gifted writer and the students really benefited from participating in her workshops.

Prue Mason - Trinity Bay SHS, July, 2013.