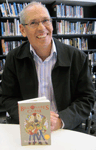 Discover one of Brisbane's newest children's authors, Richard Newsome, whose book 'The Billionaire's Curse' won the inaugural Text Prize for Young Adult and Children's Writing. It is the first volume of an exciting trilogy, and has been sold to publishers in the United States, Canada, Germany, Poland and Italy.
Richard has worked as a journalist for daily newspapers, radio and TV, as a consultant with one of the world's foremost strategy consultancies, and as the communications director of a multinational media company before taking the plunge in to writing children's literature.
Experience in journalism and the corporate world, and in his blossoming career as a children's author gives him a breadth of knowledge to speak about the values of setting goals and perseverance, of planning, execution and deadlines, and of writing to a specific audience.
Newsome, born in New Zealand but now a Brisbane local, says the novel grew out of stories he made up for his children at bedtime - all involving high adventure, intrigue and mystery. It's an irresistible adventure story with an array of curious characters, some ancient folklore and an engrossing whodunit that has young readers buzzing with excitement for the sequel
About the Billionaire's Curse:
Someone has stolen the world's most valuable diamond and a constable lies unconscious in the British Museum, two sedative darts protruding from his backside. It's not something Gerald Butler knows or cares about until he suddenly finds himself the heir to his aunt's considerable fortune. Entangled in the mystery of his aunt's death, a death that seems to be tied up with the diamond... Inheriting $20 billion would be amazing for any 13 year old, but poor Gerald is having problems already. His parents are cruising on his new yacht and he's been left in London with only a miserable butler as protection against a pack of paparazzi. And if that's not enough, Gerald seems to be number two on the hit list of whoever has murdered his aunt!
The Billionaire's Curse is a non-stop, action-packed, nail-chewing, mystery ride.
About The Emerald Casket:
What do you do when you're a thirteen year old billionaire? And you've just discovered your family tree goes back a thousand years to three brothers who made a pact to carry three caskets to three secret locations and to protect them for centuries to come?
What do you do when you know a bloodthirsty criminal holds the contents of one of those caskets and will stop at nothing to discover the others?
With all the suspense, humour and twists and turns of The Billionaire's Curse, The Emerald Casket will delight readers waiting for the sequel and send new readers clamouring for the first book of The Billionaire Trilogy.
Testimonials
Engaging and well prepared speaker. More than met our expectations. Would certainly use again and recommend to others.

Varsity College - October, 2017

Richard was highly engaging. He kept our students interested and gave them some good insights on how to start writing.

Ambrose Treacy College - May, 2017

Richard was fantastic with our students. Many of them discussed his presentation with us afterwards. It was important for our new teachers to have a chance to hear his advice. We would certainly use him again and your help with advice and bookings has been very useful.

Richard Newsome - Cavendish Road State High School, February 2016

Our recent visit from Richard Newsome went really well. Students were engaged during the presentation and were able to apply information to their own work. Staff felt that the presentation was relevant and engaging. I would definitely recommend Richard to other schools. I found it very easy and straightforward to book with Speakers Ink and would book with you again.

Richard Newsome - Redeemer Lutheran College, February, 2015.

Richard was very generous with his time and his interaction with the students at our Readers Cup Regional final. His talk and question time were very entertaining and the students were totally engaged.

I certainly would book him again and would recommend him to other schools.

Richard Newsome - Wooloowin State School, June, 2015.