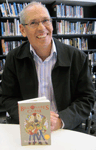 Discover one of Brisbane's newest children's authors, Richard Newsome, whose book 'The Billionaire's Curse' won the inaugural Text Prize for Young Adult and Children's Writing. It is the first volume of an exciting trilogy, and has been sold to publishers in the United States, Canada, Germany, Poland and Italy.
Richard has worked as a journalist for daily newspapers, radio and TV, as a consultant with one of the world's foremost strategy consultancies, and as the communications director of a multinational media company before taking the plunge in to writing children's literature.
Experience in journalism and the corporate world, and in his blossoming career as a children's author gives him a breadth of knowledge to speak about the values of setting goals and perseverance, of planning, execution and deadlines, and of writing to a specific audience.
Newsome, born in New Zealand but now a Brisbane local, says the novel grew out of stories he made up for his children at bedtime - all involving high adventure, intrigue and mystery. It's an irresistible adventure story with an array of curious characters, some ancient folklore and an engrossing whodunit that has young readers buzzing with excitement for the sequel
About the Billionaire's Curse:
Someone has stolen the world's most valuable diamond and a constable lies unconscious in the British Museum, two sedative darts protruding from his backside. It's not something Gerald Butler knows or cares about until he suddenly finds himself the heir to his aunt's considerable fortune. Entangled in the mystery of his aunt's death, a death that seems to be tied up with the diamond... Inheriting $20 billion would be amazing for any 13 year old, but poor Gerald is having problems already. His parents are cruising on his new yacht and he's been left in London with only a miserable butler as protection against a pack of paparazzi. And if that's not enough, Gerald seems to be number two on the hit list of whoever has murdered his aunt!
The Billionaire's Curse is a non-stop, action-packed, nail-chewing, mystery ride.
About The Emerald Casket:
What do you do when you're a thirteen year old billionaire? And you've just discovered your family tree goes back a thousand years to three brothers who made a pact to carry three caskets to three secret locations and to protect them for centuries to come?
What do you do when you know a bloodthirsty criminal holds the contents of one of those caskets and will stop at nothing to discover the others?
With all the suspense, humour and twists and turns of The Billionaire's Curse, The Emerald Casket will delight readers waiting for the sequel and send new readers clamouring for the first book of The Billionaire Trilogy.
Testimonials
Richard was professional, courteous, friendly and engaging. He kept the students focussed and interested throughout his presentation, and interacted with them easily...answering their questions and asking them questions as well! Richard was very generous with his time - He gave us the impression that he enjoyed visiting our school as much as we enjoyed his visit. Richard spent time with our 'Writers Group' in the afternoon session, which was especially well-received. He was such an encouragement to them, and so responsive to their questions. He was unhurried and seemed genuinely interested in their writing projects and achievements. Richard was (by far) our favourite visiting author to date! I recommend him without reservation...He is worth every cent!

Prince of Peace Lutheran College - October 2018

Richard shared his personal experiences and stories which helped the students connect with him. Showing the children about drafting his book was an eye opening look into being an author. The presentation was very interesting, engaging and funny and the students thoroughly enjoyed it. He was very generous with his time in interacting with the groups and individual students (a lot more than was expected).Overall Richard's presentation was very engaging, age appropriate and informative.

St Mary's Primary School Ipswich - October 2018

Richard was very engaging and kept the students in Yrs 4-6 completely entertained with his stories and mind reading trick. He has inspired students to write their own stories and there was a rush on Richard's books after his visit.

Siena Catholic Primary School - September 2018

Richard was very engaging and even though he ran 4 sessions, he somehow managed to keep his energy level high throughout the day and present as if new to each group. I liked that he gave each group of teachers the option of Narrative or Persuasive. He's a lovely gentlemen and children loved hearing his back story and shared a lot of laughter. Teachers feedback has been overwhelmingly positive. Richard was more than happy to sign autographs and hop in photos after sessions during his own time. He went over and above and had a warm rapport with all.

Brightwater State School - September 2018

Engaging and well prepared speaker. More than met our expectations. Would certainly use again and recommend to others.

Varsity College - October, 2017