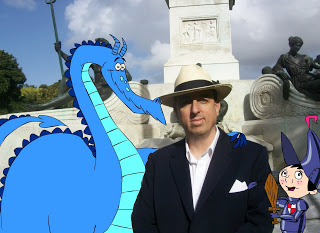 Robin is the author of the incredibly popular Belmont and the Dragon series.
A session with Robin will include:
How the illustrator and he came to work together, where ideas for books come from, some readings and the opportunity for lots of questions. The illustrations are quite remarkable so he usually projects the images onto an interactive white board or computer projection screen, so children can see and appreciate the pictures page by page as they are being read and discussed.
Books 1 and 2 have been included as part of the Queensland Primary School curriculum as well as being added to the QLD Premier's Reading List Challenge. They have also been added to the Scholastic Core Library List which chooses about 40 titles per year ( out of hundreds) to recommend to schools as 'high quality children's literature for class reading.' and been chosen by Australian Standing Orders , who select only 4 to 6 titles per year which they recommend to their teachers and librarians as 'the best new releases for school libraries'.
The fourth book in the series was released in 2010 by Random House, Australia. The books are being sold in the UK and the USA, as well as Europe, Asia and India. The first four books are being translated into Spanish and Catalan for the Spanish speaking market worldwide. Negotiations are currently underway with an Irish animation company who are interested in producing a cartoon series for television based on the Belmont and the Dragon stories.