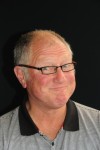 Speaker type
Author
Illustrator / Designer
Roland Harvey is one of Australia's best-loved illustrators admired for his humour and intriguing, detailed art work. In 1978, he established Roland Harvey Studios and designed a wonderful range of greeting cards, posters and stationery with a distinctively Australian flavour. Successful ventures in to children's books soon followed as did demand for him to visit schools and share his love of books and illustration with children everywhere. Roland was the recipient of the 2005 Dromkeen Medal in recognition of his achievements.
Roland can run general sessions focussing on watercolour painting, caricature, illustrating generally, publishing and life as an author.
He can also run more detailed sessions if genuinely interested focussing on drawing techniques (e.g. composition, perspective, cross-sections).
"I guess the broadest description I could give of my work is that it is about Australian culture. Observations, and maybe even contributions to it.
I started during 5th year Architecture, publishing Christmas cards to pay the bills, trying to get the essence of an Australian Christmas onto a piece of card about 120 x 80mm square. Is it about nostalgia? The bush? The beach? The city? Reunions, family gatherings? Probably all the above; anyway it worked.
I got into the publishing business and spun off into books for kids. My interest in history, science, a bit of philosophy and a lot of the funny stuff guided my publishing career and after 35 years, a hundred books, stamps, posters and the odd conservation-cause T-shirt I'm still at it. I think it is almost more important now than ever, with the influences of the internet, the new conservatism and global marketing of books all putting pressure on our culture and what kids get to read.
My work in illustrating Australia has made me more aware of the Australian culture and landscape, both in detail and in overview. I have had to look at our shape, our colour and our texture. I have come to understand what a treasure we have in its' richness, diversity and integrity. I truly believe we must preserve it and one of the aims of my books is to show it off to others. There are also a lot of references to science, maths, history, health and self-esteem.
As a kid I was very lucky growing up both in the city and in the country. As an old kid I have a great love for both.
I care a lot about environment and design issues, and paint with watercolour and draw for fun as well as work. I enjoy outdoor sports and camping music and food, and if I did nothing else I would like to awaken people to the beauty of life on our little planet".
Roland Harvey entertaining students at the 2013 Voices on the Coast Festival.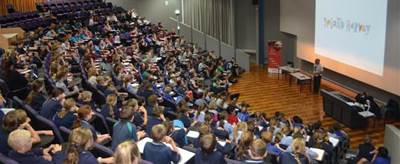 Testimonials
Roland Harvey is a wonderful author/illustrator and interpreter of many of our favourite Australian fictional and historical stories.
Roland engaged well with all our primary students who thoroughly enjoyed hearing about all his books. They enjoyed his masterclass on how to draw and his use of watercolour to illustrate stories. Excellent.

St Brendan's Primary School Somerville - March 2019

Roland Harvey was FANTASTIC! My favourite Author Visit so far!!
Many thanks for organising this - the students and staff really enjoyed it.

Roland Harvey - St. Augustine