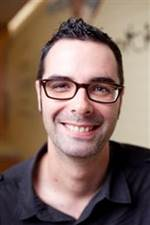 Simon Groth is a writer and editor whose works include Off The Record: 25 Years of Music Street Press (with Sean Sennett, UQP, 2010), Hunted Down and Other Tales (with Marcus Clarke, if:book, 2016) and Infinite Blue (with Darren Groth. Orca Book Publishers, 2018).
With if:book Australia, Simon created a series of award-winning experimental works including the 24-Hour Book, live writing events at writers festivals around the world, and works of literary remix. His reporting on digital publishing with if:book Australia has seen him travel the globe to discuss and explore the challenges and opportunities for writers and readers in a digital world.
Infinite Blue
Ashley Drummond is an elite swimmer. Clayton Sandalford is a talented artist. From the moment of their first meeting, they were destined to be together. Staying together, however, will test the limits of their love. A world-record swim, and the strange vision that accompanies it, raises questions about the couple's connection.Then a life-altering incident triggers a mystical change, which will demand that both of them let go in ways never imagined.
Infinite Blue is a contemporary fairy tale about love and loss, flesh and water, the source of eternity, the lure of possibility and the belief that life is limitless when it's immersed in legend.
"Achingly beautiful and (infinitely) heartbreaking. Clay and Ash's connection filled me up from the very first page. I became their love and it left me with a wound that will not soon heal." - Sonali Dev, award-winning author of A Bollywood Affair
"I envy readers about to immerse themselves in Infinite Blue for the first time. The Groth brothers spin a tale as wondrous, surprising, mysterious, and magical as the ocean itself. The story of Ashley Drummond and Clayton Sandalford, two teens learning to release themselves to natural creative forces, is gorgeous and delightful and gets two enthusiastic thumbs-up from this water lover. Bravo!"
— Angie Abdou, author of The Bone Cage
Hunted Down and Other Tales
A book that looks like it has fallen through time (at least until you open it up). In Hunted Down and Other Tales, Simon Groth collects three stories by Marcus Clarke originally published in the nineteenth-century and spins them into a thoroughly contemporary take on Australian culture.
It's been described as 'a mysterious parcel that is as interesting once opened as it was unopened' (Anna Welch) 'intricately beautiful' and 'brain spinning' (Kate Larsen) and (seriously) 'digital, historical, physical, fun, provocative, contemporary, formally playful and generally delicious' (Matt Finch).

Written by Simon Groth and designed by George Saad, the book is filled with typographic play, advertising, and self-reference while examining how much (and how little) has changed in the 150-odd years since Clarke's original works.
Memory Makes Us
From 2013 – 2014, if:book Australia conducted live writing event at writers festivals in Brisbane, Darwin, Melbourne and Perth. Twelve writers created new work live, using as their inspiration the memories contributed by the audience. The writing that emerged is beautiful, funny, sad, and surreal.
In 2015, editor Simon Groth created a print edition that anthologised the work produced at these events. Like all memories, the pieces that make up Memory Makes Us were designed to be ephemeral and so the collection was published to newsprint, designed to degrade and fade away over time.

Featuring design work by Zoë Sadokierski, Gemma Warriner, and Alissa Dinallo, Memory Makes Us won Best Independent Publication at the 2016 Australian Book Design Awards.

The N00bz: New Adventures in Literature
Change your tools for storytelling, change your routine, learn a new form, engage with parts of the wider industry you have never had to previously. See what happens and report back. This was the challenge taken up by contributors to The N00bz: New adventures in literature, a joint project between if:book Australia and digital first publisher Editia.
Edited by Simon Groth, this collection of writing about writing documents pure curiosity and the quest to continually improve amidst rapid and constant industrial change. The results are by turns insightful and amusing if, just occasionally, a bit harrowing.
'The best of the resulting essays—Simon Groth on using a typewriter, Carmel Bird on trying to publish an ebook, Caroline Baum on spruiking for Booktopia and Emily Stewart on giving away her favourite books—demonstrate both an excitement from the authors at thinking differently about what they do, and some conclusions.'— Lachlan Jobbins, Books+Publishing
Willow Pattern
An experimental book written and published in 24 hours from if:book Australia.
9 writers. 24 hours. 1 book. On 11 June 2012, if:book Australia gathered a team of writers and editors together with the challenge of writing, editing and publishing a book – for both print and digital – within a single 24-hour period. Working at a furious pace, the team constructed a suite of stories interweaving a looming disaster, radio shock jocks, missing children, a beautiful vase, and a librarian named Sammi Bernhoff.

Conceived and created through my role with if:book Australia, the 24-Hour Book was one project I wanted to be directly involved in. I took the role of lead writer for the project alongside my chosen partner in crime Keith Stevenson as lead editor. There had been other 24-hour books in the past, but this was the first one to go to press, literally in print and digital, within its titular timeframe.
Off the Record: 25 Years of Music Street Press
Established in 1979, Time Off was the first free music/ entertainment weekly in Australia. Here are some of the best interviews and articles from the magazine's first thirty years – from bands on the cusp of greatness to megastars at the height of their powers.
Far from regurgitating industry marketing copy, Time Off had a fiercely independent and wry voice. Off the Record reflects this, offering a unique insight into recent music history: Powderfinger return from their first-ever Sydney shows, Nick Cave name-checks his literary heroes, and Neil Finn worries that Crowded House's new album might be a little too dark, while elsewhere Kurt Cobain dives into Dave Grohl's drum kit (and sprains his wrist in the process). Australian bands, from the Saints to the Grates and the Hilltop Hoods, are featured, but the international focus is strong too, from the Rolling Stones and Sonic Youth to Oasis and the White Stripes.

Off the Record is the must-have indie book about all things music.
Testimonials
Simon was great…. He manipulated his presentations to the age level and composition of the audience and handled both the 130 students presentation and the 50 students equally well.

Would definitely get Simon back next year again if he's available.

St. Peters Lutheran College, August, 2015.