Short Story - My Sister Ate my Science Project in 'Blast Off - the Australian School Magazine'
Speaker type
Author
Illustrator / Designer
Yvonne Mes is a former early childhood educator and teacher with over 20 years' experience.
Now a published children's author, a passionate and energetic presenter, an artist and illustrator, Yvonne uses her experience and knowledge to bring children and adults engaging workshops.
Yvonne has presented at schools, conferences, festivals and writer's groups to children from kindergarten to year 7 as well as adults. School sessions are linked to the Australian Curriculum, and can be tailored if needed.
Yvonne Mes is the author of picture book Meet Sidney Nolan, illustrated by Sandra Eterovic, published by Penguin Random House. This picture book is part of the well-know 'Meet …' series that focuses on important historical figures that shaped Australia's culture, and is listed on the NSW Premier's Reading Challenge.
Yvonne's picture book Oliver's Grumbles, illustrated by Giuseppe Poli was rereleased by Yellow Brick Books in 2017.Oliver's Grumbles
Her next book as an author is illustrated by Jody Pratt. Published by Hachette, it is due to hit the bookshelves March 2020 in time for Easter. Little Bilby's Aussie Easter Egg Hunt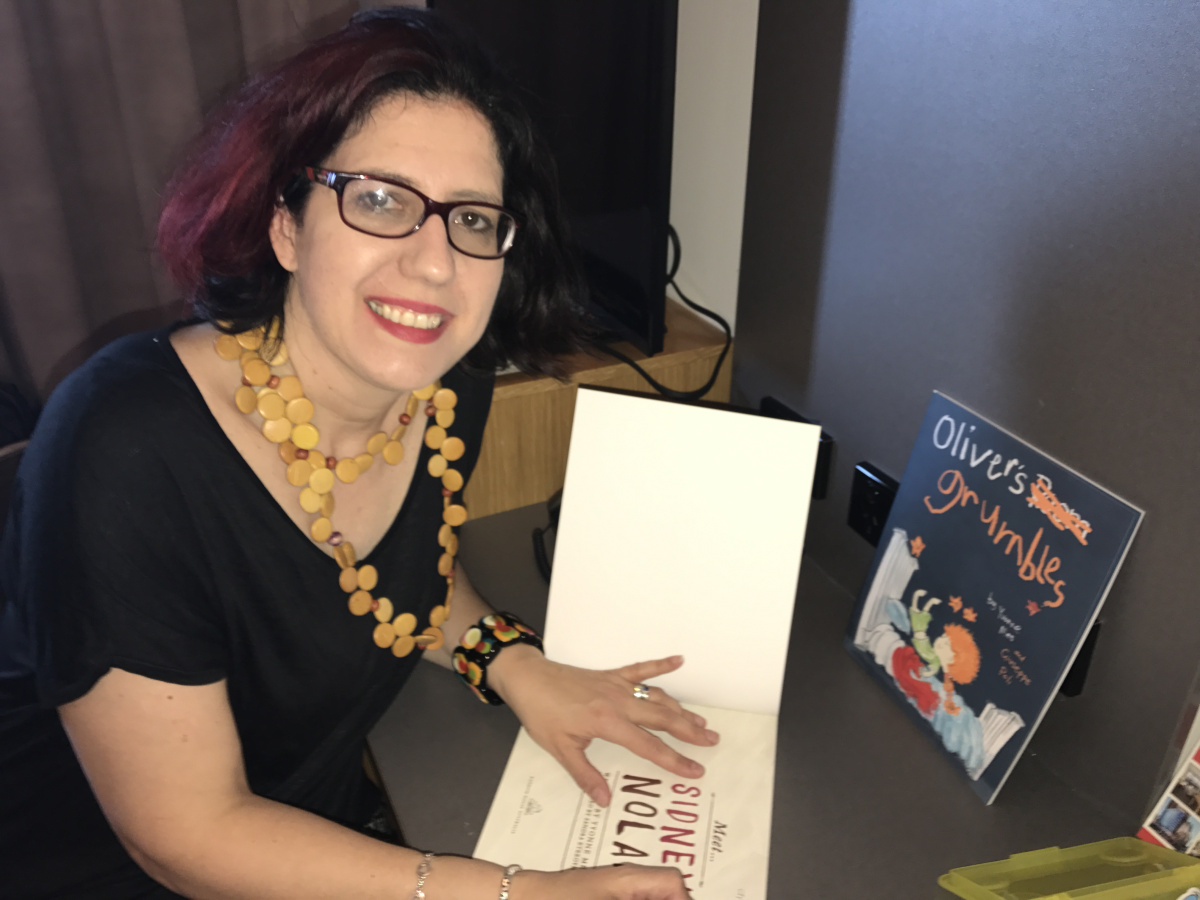 In addition Yvonne has several short stories published in The NSW School Magazine and in anthologies, digitally published through KinderGo and had her Christmas story A Starry Christmas'animated and lighting up Brisbane City Hall for two weeks in 2017 as commissioned by Brisbane City Council.
Yvonne also creates lino prints, pop-up cards and books as a visual artist and illustrator.
As the president of the non-profit organisation Book Links (Qld) Inc. and coordinator of Write Links (Brisbane group of children's writers and illustrators), a judge for literary awards and her involvement with the StoryArts Festival, SCBWI and CBCA, Yvonne advocates the importance of story for all children and works to support children's book creators.
Yvonne has many years' experience of working with children of all ages, abilities, and cultures. She has a Bachelor of Children's Services, Certificates in Professional Children's Writing, Visual Arts as well as in Training and Assessment.
Yvonne Mes lives in Brisbane with her family of four boys (one of them her husband) a dog (a girl) two leaf insects and a flea called Fish.
Workshops can be adapted to run from half an hour to a full day, content may be able to be adapted to suit the group's needs.
Workshops for children
Oliver's Grumbles - K to Grade 2
This presentation looks at what it is like to be a children's authors and an in-depth look at the picture book Oliver's Grumbles which has a focus on how to deal with bad moods and feelings. This is a 1 hours workshop which can be condensed on request.
The workshop includes:
The glamourous life of a children's author
An overview of a basic picture book structure
A reading of the story
Performing the story with children
Visualising your Grumpy feelings and what to do when you have them
Imaging and telling a story with the group – what if?
Meet Sidney Nolan – Year 2 to Year 6
This is a 1 hour workshop which can be condensed on request.
The glamourous life of a children's author
Modernist Art in History
Sidney Nolan's connection with Ned Kelly
Writing a biography
Imaging and telling a story with the group – what if?
Writing Picture Books - Year 2 and above
Workshop length can be discussed.
Telling a Story in Words and Pictures
Speedy Story Structure
Characters to love … or hate
Create your own story
Write a story with your class
How do words and pictures work together
Writing Short Stories – Year 2 and above
Workshop length can be discussed.
Speedy Story Structure
Characters to love … or hate
Create your own story
Stories that POP - Year 2 to Year 4
Workshop length can be discussed.
A wonderful combination of Math, Art and Story
Practical application of measurement and geometry to create a pop-up card that tells a story
Make Your Own Mini books – Prep and up
Workshop length can be discussed.
Stories can be long or short … or mini
Create your own fold-out mini book
Workshop or talks for adults
Writing Engaging Stories for Children using Child Development Theory and Research
These presentations look at why and how children love and understand specific stories at a particular stage of development, giving you the knowledge on how to write the stories children will love!
These workshops can be made up of a combination of the following topics (allow an hour for each topic):
Humour Development
Development of empathy and understanding perspective
Goody Two-Shoes, the Big Bad Wolf and Moral Development
Cognitive Development and Story Schema
What is Flow and how to get your readers hooked
How children understand visual narratives
Other topics for workshops:
Setting up a Critique Group and/or Writers' Group
Yvonne shares her experience, tips and tricks and common pitfalls in establishing a writing group. This includes: establishing face to face critique groups, online community, running presentations and inviting presenters and more.
Yvonne has played a large part in the inception of Write Links and has coordinated this group for Children's Authors and Illustrators for 5 years. Write Links has grown to a large groups supporting many aspiring and established children's writers and illustrators, and is one of a kind in Australia.
Writing Picture Books
(This workshop can run from 2 hours to a full day)
For those new to writing picture books, this workshop covers everything from story structure, setting and characters to how the written and visual narratives complement each other as well as the steps to take to get your story published.
You will leave this workshop with inspiration, a deeper understanding of picture books, and the beginnings of a new story (or even a complete first draft).
Testimonials
Yvonne was an energetic and vibrant presenter. She created an open and positive atmosphere with our primary school guests, leaving many of them saying it was their "best day ever!" We loved having Yvonne at our guest and would recommend her to anyone looking for an entertaining and engaging presenter.

St John Fisher College - August, 2020

Fantastic and entertaining for students and teachers. Interactive and lively. Loved having Yvonne and would not hesitate to recommend her to any primary school.

St Peters Catholic School Rochedale - August, 2019

Yvonne was fantastic and we have had great feedback from the staff and students.

Warrigal Road State School - July 2019

This workshop was exceptional. I loved the content and it has let me wanting to know more. Yvonne is a wonderful presenter: engaging, energetic, passionate, experienced, wise. Thank you.

Denise Ellis

Amazing Workshop! So much information that really inspires us to think about what we write!

Hayley Jackson